Abercrombie Caves
People of all ages will find at least one activity that appeals, but of course the caves are the highlight of this special retreat. Scheduled guided and self-guided tours are available Thursday to Monday and comprehensively introduce visitors to the breathtaking world below ground. Abercrombie Caves reserve is closed from 4pm Monday to 9am Thursday for ALL activities (cave tours, bush walking, camping and accommodation, etc). Contact 02 6368 8603.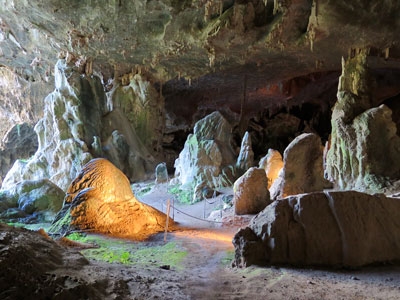 Abercrombie Caves
By far the largest feature at Abercrombie Caves is "the Archway", the biggest natural limestone bridge in the southern hemisphere.
The Reserve provides several half-day bushwalks. One-track winds to Grove Creek Falls. The creek provides welcome relief to summer swimmers. Another walk takes you to the abandoned open-cut gold mine at Mount Gray. The miners constructed a dance floor in the archway, which is occasionally used today.
The Reserve is a wildlife sanctuary. Visitors camping, staying in the comfortable guest cottage or comfortable on site units, share the peaceful surroundings with wallabies, kangaroos, wombats, and many different species of birds.
The camping area is enhanced with well-established trees. Hot showers and a laundry are provided. A kiosk offers a variety of snacks and drinks.
Abercrombie Caves, off the Bathurst-Goulburn Road, Trunkey Creek, are spectacular limestone caves located in a nature reserve. The Abercrombie Caves are one of the most spectacular limestone cave systems in Australia. They consist of a large arch claimed to be the largest natural limestone tunnel in the Southern Hemisphere and a number of smaller passages leading from it.
While the cave system is small as a whole, the Abercrombie Archway is one of enormous dimensions surpassing the size of the Grand Arch at Jenolan by two and a half times.
In 1854 gold was discovered in the area. Mount Gray, just above the caves, was established as a gold mining community covering over 20 hectares. Miners from many of the surrounding communities would often visit the caves. In the early 1860s the miners constructed a small platform for dancing. A larger structure was built in 1880 and is still used today for functions -–this venue has exceptional acoustics. Regular musical events are held here.
The first white visitors to the caves appear to have been bushrangers. In 1830-armed settlers, mounted police and an army regiment fought it out with The Ribbon Gang near the caves. Convict leg irons have been found in Bushranger Cave.
A severe flood hit the archway in April 1950. This flood was reported to be 7 metres up the walls and many of the tracks were washed away. The caves were closed for two years while the debris was removed. The caves were reopened for public inspection in 1952.
The caves are being constantly developed and maintained. In 1979 the new electrical installations were officially switched on and a time capsule was placed near the dance floor to be opened in 2079.
Visitors may swim or fish for trout in Grove Creek, try their hand at fossicking or explore the bush on a half day walk along marked tracks.
Archway Cave (Self-Guided Tour)
The Archway is Abercrombie's most famous feature and the largest natural arch in the Southern Hemisphere. This tour involves a leisurely walk over the surface area and returns through the Archway. The cave has a long social history, including the gold miner's dance platform, which is still used today. The tour features automatic lighting and extensive information about the cave on signs and the accompanying leaflet. This is an ideal self-guided tour.
Tour Duration Approx 1 hour Available: 9am to 4pm Thursday to Friday
Archway by Night
The night tour is an extended inspection of the Archway cave and its galleries. The enormous proportions of the Archway and massive cave decorations will amaze you as the electric lighting penetrates the darkness. A tour at night is like an evening at the theatre, with the grandeur of gothic shapes and gloomy tunnels, combined with sparkling crystal. This is the magnificent Archway at its best.
Tour Duration: 2.5 Hours Available: By Arrangement
Bushrangers Cave
Bushrangers cave is the main guided tour at Abercrombie and includes a detailed history on the infamous bushrangers, the Ribbon Gang, who used the cave as a hideout in 1830. This is a dark cave that includes aspects of the surface geology.
Tour Duration: 1.4 Hours Available: 2pm Saturday and Sunday
Grove Cave
This tour introduces you to the underworld from a caver's perspective, but with the advantages of electric lights and steps. The grove is a fine example of a small and narrow solution passageway and is richly decorated with transparent shawls and straws. It includes an optional crawly bit known as the "Grovel".
Tour Duration: 1.2 Hours Available: By Arrangement
King Solomons Temple
King Solomons Temple incorporates the best areas of the Archway and includes a stop at the gold miner's dance platform that was built in 1880 and a walk over the suspension bridge. The tour has spectacular outlooks, including impressive views of the roof of the Archway.
Tour Duration: 1.4 Hours Available: By Arrangement
Cathedral Cave Tour
This tour takes you to the highest point in the roof of the Archway. This more adventurous look at the geology of the cave system takes a step back in time to discover the beginnings of the cave system. There are steep ladders and steps negotiated during the tour. Limit 15, not suitable for children under 5.
Available: By Arrangement
Mini Adventure Tour
Collect your helmet and torch and explore many dark sections of the Archway. Definitely strenuous and fun, this adventure tour is ideal for beginners who want to try their hand at caving. Limit 10, advanced bookings essential.
Available: By Arrangement
Abercrombie Caves
Cave Tour Pricing
| | | | | | |
| --- | --- | --- | --- | --- | --- |
| Cave | Adult | Child | Pensioner | Senior | Family |
| | | | | | |
| Archway Cave - Self Guided | $18.00 | $12.00 | $12.00 | $15.00 | $45.00 |
| Bushrangers Cave Guided + Archway Cave Self Guided | $30.00 | $23.00 | $23.00 | $28.00 | $75.00 |
| Grove | $22.00 | $17.00 | $17.00 | $20.00 | $55.00 |
| Archway Cave - Guided | $22.00 | $17.00 | $17.00 | $20.00 | $55.00 |
| Belfry Tour | $30.00 | $23.00 | $23.00 | $28.00 | $75.00 |
| Night Tour | $40.00 | $40.00 | $40.00 | $40.00 | N/A |
| | | | | | |

If you have time for only one tour, visit any cave. If you have time to visit more than one cave, why not take advantage of our cave passes and multi-cave packages (scheduled standard tours only). Credit cards are accepted.
More Information
Abercrombie CavesPlease note that the following are not allowed in the caves:
eating or drinking
chewing gum
smoking
touching the formations.
For your comfort, while visiting the caves, we recommend:
a light sweater, even during summer
sturdy non-slip shoes.
School and social groups are welcome and inspections concentrating on Aboriginal history can be arranged.
Contact Abercrombie Caves.

Abercrombie Caves Camping Ground
(60 Sites)
Getting there: Abercrombie Karst Conservation Reserve is a four hour drive from Sydney. Follow the M4 motorway west through the Blue Mountains, Katoomba, Lithgow and on to Bathurst. The reserve is approximately one hour from Bathurst on the Trunkey Creek – Goulburn Road.
Campsites are suitable for: caravans; camper trailers; camping beside your vehicle.
Facilities: Drinking water, flush toilets, amenities block, hot showers, electric/gas barbeques, wood barbeques.
More details: There are plenty of campsites along the picturesque Groves Creek. Facilities include a camp kitchen and dining room with stove, barbeques, urn, tables and chairs. There are three amenities blocks with hot showers and flush toilets with wheelchair access. You will need to bring your own firewood.
Fees: $12.00 per person per night or $30 per family per night.
Bookings: Contact the Park Office for more details.
Accommodation in the Park
The NPWS provides accommodation in the park – see below for details.
Arch Cottage
(6 people Maximum).
Arch Cottage is a fully self-contained three bedroom house. One bedroom contains a double bed, another has a queen-size bed and the third room has two sets of double bunks.
Location: Close to the main caves area.

Fees: $130 per night for up to 4 people; $150 per night for 6 people.

Bookings: Contact the Park Office for more details.
Grove Creek Deluxe Cabins
(4 people Maximum)
These two cabins will each sleep four adults. There are two bedrooms, one with a double bed and the other with a set of double-decker bunks. The ensuite toilet and shower adjoins both bedrooms. Blankets, doonas and pillows are provided, but you will need to bring your own sheets or sleeping bag. The cabins have an ovenette, fridge, kettle, microwave oven, toaster and heater.
Location: Beside Grove Creek, opposite the park camping ground
Fees: $105 per night.
Bookings: Contact the Park Office for more details.
Grove Creek Standard Cabins
(6 people Maximum)
There are two standard cabins, each sleeping up to six adults. There is one double bed and two sets of double –deck bunks. Blankets are included but you will need to bring your own linen and pillows. The cabins have a stovetop, fridge, kettle, toaster and a heater or fan (depending on season). Toilets and facilities are close by. Take-away food, groceries and souvenirs are available from the kiosk.
Location: Beside Grove Creek, opposite the park camping ground.
Fees: $50 per night ($60 per night during holiday periods).